Alasdair Shaw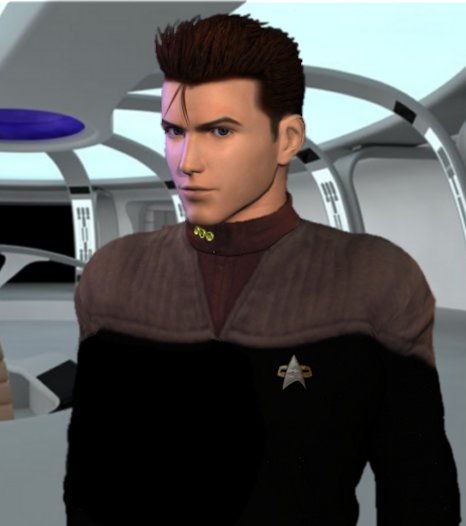 | | |
| --- | --- |
| Name: Alasdair Shaw | |
| Rank: Lieutenant Commander | |
| Species: Human | |
| Age: 31 | |
| Gender: male | |
| Height: 1.78 m | |
| Weight: 73 kg | |
| Eyes: Blue | |
| Hair: Dark Brown | |
| Birthplace: Inverness, Scotland, Earth | |
| Birthdate: 3rd September 2354 | |
Hobbies: Archery, Fishing, Hunting, Rugby and Shooting
Languages: Standard Federation, Gaelic, Klingon and Scots

Family:

education:
2372-2376 - Starfleet Academy
Service Record

| DATES | SHIP | RANK | POSITION |
| --- | --- | --- | --- |
| 2372-2376 | Starfleet academy | cadet | tactical |
| 2376-2378 | USS Brandenburg | Ensign | Tactical Officer |
| 2378-2380 | USS Brandenburg | Lieutenant jg | Tactical Officer |
| 2380-2381 | USS Resolution | Lieutenant | Chief Tactical Officer |
| 2381-2385 | USS Ajax | Lieutenant | Chief Operations Officer |
| 2385-PRES | Starbase medical | Lieutenant commander | Chief Operations Officer |
Decorations:
Academy Bar, 2376
Combat Merit, 2376
Order of Bolarus, 2377
Exploration Ribbon, 2378
Legion of Honour, 2379
Reprimands:
Background:
Born the fourth son of Jacobite Shaw of Tordarroch on the 3rd of September 2354 in the highland capital of Inverness. He went on to have a fairly stable childhood at Inverness, spending his time up in the hills and mountains of the highlands; there he learnt how to hunt and fish from a young age. Alasdair's father; Jacobite Shaw was a Starfleet Officer who would eventually rise to the rank of Admiral; this influenced the child and turned him onto the career path that Starfleet had to offer.
In 2372 as Starfleet prepared for conflict with the Dominion, many of his relatives including all his older brothers and sisters joined Starfleet and went to war. The eighteen year old although willing to enlist with his siblings, was advised by his father to attend Starfleet Academy instead. At least that way someone one would stay at home to look after the family's holdings and he would become an officer and follow his in his father's footsteps.
At Starfleet Academy he found himself immediately at war with the established Campbell and deMercereau cadets. The Campbell's being from a long time rival highland clan, while the deMercereau's had their own arrogant superiority complexes and seemed to look down on the young man from the highlands.
The four years at Starfleet Academy somehow went by, Alasdair studying to be a Tactical Officer while pursuing Academy Rugby. His two closet friends being a young Sebastian Davoust and Jeanne Kapoor, although both would leave the Academy earlier. Sebastian joining the USS Ranger in 2373, while Jeanne would leave a year later in 2374 after receiving a commission onboard the USS Vanguard. Graduation came in 2376 and Alasdair left for the USS Brandenburg and a deep exploration mission.
Life onboard the Brandenburg was challenging as the young Ensign found him self onboard one of the toughest fighting ships in the fleet. Named after the German Battleship of World War One, she also seemed to fight like one, the Nebula Class ship being involved in constant skirmishes with the Breen while on her exploration of the Chenobi Sector. In 2377 he'd even receive the Order of Bolarus along with two other officers for the defence of the Bolian Colony of Botanis, during a Breen raid.
The next year would see the end of the Brandenburg's exploration mission of the Chenobi Sector and along with the standard Exploration Ribbon; he received a promotion to Junior Lieutenant. Again the USS Brandenburg would set out on an exploration cruise this time towards the Galactic Barrier, after one year of heading towards its destination; she was forced to turn back when she was damaged by an Ion Storm. He received the Legion of Honour for his efforts during the return voyage to Earth.
Finally returning home in 2380 he received news of a transfer to the USS Resolution as well as another promotion, this time to full Lieutenant and the position of tactical officer under Captain David Carey. Although he would miss the Brandenburg he readily accepted the move to the Resolution, believing it provide more of a challenge as well as a chance to be recognised for his efforts by Starfleet Command.
He didn't stay long onboard the USS Resolution and soon found himself transferred to the USS Ajax, this time serving as the Chief of Operations. The posting lasted four years, before in 2385 he transferred to Starbase Medical to take up the position of Chief of Operations there.
Personality Profile:
Alasdair is a proud young man; he is idealistic and values loyalty and honour above most things. He has always fought courageously in the name of Starfleet and the Federation, because he believes in the Prime Directive and the will of the Federation Council. An inquisitive man, he usually finds himself asking lots of questions. He is extremely active, always moving around and participating in most sports. Alasdair in general is a nice guy, although when he doesn't get along with someone he'll usually be cold rather then aggressive.
Special Notes:
none